---
The Crossbow > Chapter 6 > Shortbow , Longbow and Crossbow > p.36

---
---
The fact that the hand-gun could be used by the horse-soldier, whilst the longbow could not be thus employed, was the chief argument against the revival of the bow.

There is no doubt, that our Continental enemies, after their experience of the longbow at Crecy in 1346, held it to be a fearfully destructive weapon. They, in fact, had little knowledge before that battle of its greatly superior power and accuracy in open warfare to all other missive arms of the period, such as, for instance, the crossbow with a composite, or a light steel, bow.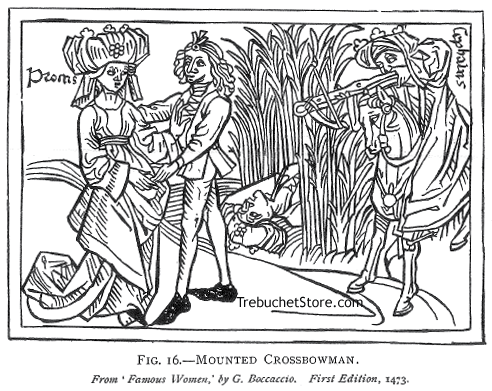 Fig. 16. - Mounted Crossbowman.
Though the French sometimes carried the longbow in the chase, they never succeeded in mastering it as a weapon of war, despite strenuous efforts to do so. After Crecy, the French endeavoured to introduce it into their armies, with a view to combating the English with their own weapon, any soldier who excelled in its use being highly rewarded. The French, however, came to the conclusion that they could never handle the longbow as did the English, and, for this reason, they returned to the crossbow as their favourite arm. Pere Daniel writes, ' The French King did manifestly see that neither his nor any other people could attain to shoot so strong, and. with that dexterity and excellence which the English bowmen did, whereby, and seeing that English archery was a very peculiar gift of God, they left off the practice and use of the longbow .' 1
At the time of Crecy, the armour worn by the knights was not designed
1Pere Daniel, Superior of the Jesuits at Paris, French historian, born 1649, died 1728.
The Crossbow > Chapter 6 > Shortbow , Longbow and Crossbow > p.36

---
---
<! Plans Insert Starts Here>
---
---
<! Plans Insert Ends Here> <! Multi-Pack Insert Starts Here>

<!hr WIDTH="100%">

Save up to 50% with Multi-Plan Deals
---
2 Plans $19.95 FREE Shipping - Save Over 30%
U.S. Orders Only

<! Multi-Pack Insert Ends Here> <! Trebuchet Kit Insert Starts Here>
---

| | |
| --- | --- |
| Working Model Trebuchet Kit | |
---
Trebuchet Kit
TK1

$75.00
FREE Shipping
U.S. Orders Only

The trebuchet kit includes fully precut and drilled frame parts, pins and axles, sling cord and sewn pouch, projectiles and fully illustrated assembly and firing instructions.

Unlike the flimsy, snap together plywood trebuchet kits, our all hardwood trebuchet kit does not require additional cutting, trimming or shaping.

Requires only white carpenter's glue and a few bar clamps (not included) to assemble.
<!Trebuchet Kit Insert Ends Here> <! Assembled Model Starts Here>
---
| | |
| --- | --- |
| Fully Assembled Working Models | |
---

daVinci Trebuchet

T4

$299.00
FREE Shipping
U.S. Orders Only

Inspired by the great war machines and siege catapults of Leonardo da Vinci , this all Red Oak hardwood trebuchet features an open counterweight cabinet for range and trajectory adjustment.

Individually crafted from cabinet-grade red oak, the da Vinci Trebuchet stands 14 inches tall in the cocked position, 24 inches tall in the fired position and will hurl a projectile up to 60 feet. Includes six projectiles and fully illustrated instructions.
<! Assembled Model Ends Here>