---
The Crossbow > Chapter 1 > Military Crossbow > p.3

---
---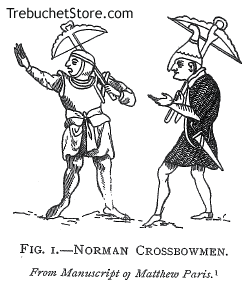 Fig 1 - Norman Crossbowmen.
The crossbow was probably introduced into England as a military and sporting arm by Norman invaders in 1066.
Early in the twelfth century, the construction of this weapon, the bow of which was not yet formed of steel, was so much improved that it became very popular English ad Continental Armies.
The wounds caused by the crossbow in warfare were, however, considered so barbarous, that its use, except against infidels, was interdicted by the second Lateran Council, in 1139, under penalty of anathema, as a weapon hateful to God and unfit for Christians. This prohibition was confirmed, at the close of the same century, by Pope Innocent III. Conrad III, of Germany, 1138 -1152, also forbad the crossbow in his army and kingdom.
The employment of crossbowmen, nevertheless, again became common in English and Continental armies in the reign of Richard I, 1189-1199, and the death of this king, which was caused by the bolt from a crossbow, (at the siege of the Castle of Chaluz, near Limogres, in France, in 1199) was thought to be a judgment from Heaven inflicted upon him for his disobedience and impiety in permitting crossbowmen to enter his service.
Richard was an expert with the weapon. At the siege of Ascalon - though prostrated with fever - he is said to have been carried from his tent on a mattress, so the he might enjoy the pleasure of shooting bolts at the defenders of the town. In this case, however, as the enemy consisted of Turks and infidels, this act would have been sanctioned by the Church of Rome. Thought among
1 As the period in which a chronicler, or artist, lived, cannot be repeated on every occasion when his name occurs, consult, therefore, the general index to ascertain any biographical date.
The Crossbow > Chapter 1 > Military Crossbow > p.3

---
---
---
---
---
Make Your Own
2 Plan Combination