---
The Crossbow > Chapter 1 > Military Crossbow > p.9

---
---
The Military Crossbow
the approach to its gateway. A crossbow could be strung in , and discharged from, a room not 6 feet high to the ceiling, whilst a longbowman required a height of at least 7 feet in order to shoot an arrow with effect.
Nor did the crossbow require the strength, skill and practice to manipulate it that were so necessary in the case of the longbow.
The narrow cruciform loophole, called by architects "Arbalestina," which is usually to be seen in the masonry of a mediaeval fortress, was designed for the special use of crossbowmen in repelling an assault.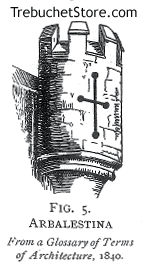 Fig 5. - Arbalestina
From the Glossary of Terms of Architechure, 1840
To enable the crossbow, or longbow, to be aimed to the right or left through a loophole, the aperture was greatly widened out on the inside face of the perforated wall.
The perpendicular loopholes, also common in ancient castles, were intended for the archer with his longbow, hence they were not cruciform in outline1.
The perfected military crossbow of the fifteenth century, with its steel bow and appendages, being heavy, and slow in action, could not be utilised so readily for shooting quickly at single combatants, or at small bodies of men and horse on the open field of battle, as could the longbow. Its weight alone precluded it from being aimed with success against rapidly moving objects, nor could its bolt be directed with precision if a hurried aim was taken.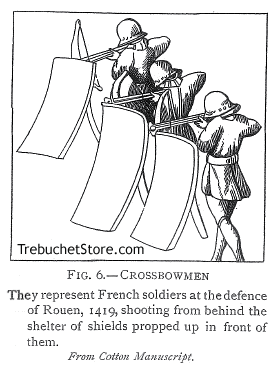 Fig 6 - Crossbowmen
They represent French soldiers at the defence of Rouen, 1419, shooting from behind the shelter of shields propped up in front of them.
On the other hand, a skilful archer with his longbow might quite possibly pierce a galloping stag with an arrow at a distance of 70 yards, and, if he failed to strike his mark, send another shaft at his quarry before it was out of bow-shot.2
This advantage of rapid aiming and shooting, the longbowman could apply
1 ' Our Chateau de Cheeignee we have assigned to the Earl of Montfort in such wise that he is to understand we cannot allow in it any perpendicular loophole for archers, nor any cruciform loophole for crossbow-men.' - From a Royal Charter of France dated 1239 and quoted in Sir S. Meyrick's work on Ancient Armour.
2 If an archer expected to use two arrows in rapid succession, he held his second arrow against the back of his bow with his left hand, or else pressed into the palm of the right hand by the thumb, so that he could instantly seize it and fit it to his bow-string, and thus save the time that would otherwise be spent in extracting it from a quiver. On the other hand the crossbowman, when bending his bow, held a bolt between his teeth, so that it might be ready to fit to his weapon without any delay. Pages 49, 124.
The Crossbow > Chapter 1 > Military Crossbow > p.9

---
---
<! Plans Insert Starts Here>
---
---
<! Plans Insert Ends Here> <! Multi-Pack Insert Starts Here>

Save up to 50% with Multi-Plan Deals
---
2 Plans $19.95 FREE Shipping - Save Over 30%
U.S. Orders Only

<! Multi-Pack Insert Ends Here> <! Trebuchet Kit Insert Starts Here>
---

| | |
| --- | --- |
| Working Model Trebuchet Kit | |
---
Trebuchet Kit
TK1

$75.00
FREE Shipping
U.S. Orders Only

The trebuchet kit includes fully precut and drilled frame parts, pins and axles, sling cord and sewn pouch, projectiles and fully illustrated assembly and firing instructions.

Unlike the flimsy, snap together plywood trebuchet kits, our all hardwood trebuchet kit does not require additional cutting, trimming or shaping.

Requires only white carpenter's glue and a few bar clamps (not included) to assemble.
<!Trebuchet Kit Insert Ends Here> <!Trebuchet Kit Insert Ends Here> <! Assembled Model Starts Here>
---
| | |
| --- | --- |
| Fully Assembled Working Models | |
---

daVinci Trebuchet

T4

$299.00
FREE Shipping
U.S. Orders Only

Inspired by the great war machines and siege catapults of Leonardo da Vinci , this all Red Oak hardwood trebuchet features an open counterweight cabinet for range and trajectory adjustment.

Individually crafted from cabinet-grade red oak, the da Vinci Trebuchet stands 14 inches tall in the cocked position, 24 inches tall in the fired position and will hurl a projectile up to 60 feet. Includes six projectiles and fully illustrated instructions.
<! Assembled Model Ends Here>