---
The Crossbow > Chapter 1 > Military Crossbow > p.7

---
---
The Crossbow
luckless crossbowmen and hewed them down with their swords, as cowardly knaves whose broken ranks blocked the way to the front. Whether the alleged incident of the crossbow strings occurred or not, or whether it was said by the Genoese to have taken place as an excuse for their discomfiture, we shall never know. At all event one thing is certain, and that is, that at the time of Crecy the longbow must have excelled considerably the crossbow in range and penetration.
Even when the powerful steel crossbow with its windlass was invented, it was rightfully considered to be less efficient in open warfare than the longbow, which was light, portable and inexpensive, and could be discharges five or six times to the crossbow's once.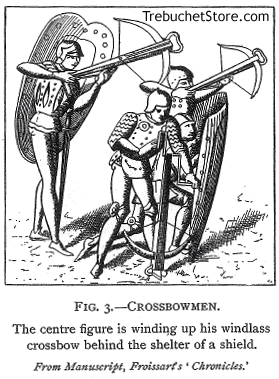 Fig 3. - Crossbowmen
The centre figure is winding up his windlass crossbow behind the shelter of a shield.
Whilst the crossbowman was occupied in stretching the string of his bow, the archer with a longbow could be assailing him with a succession of arrows.
For this reason, the crossbowman was often attended in battle by a companion, who sheltered him from the arrows of the enemy by holding before him a thick shield of wood and hide, whilst he was pulling up his bowstring1.
Sometimes the crossbowman carried a small shield himself, which he slung on his back on the march, and propped up before him as a protection when shooting, or when bending his crossbow.
The crossbow may be described as a blunderbuss of archery, and the larger sort was much employed in the defence of fortresses, as behind the shelter of turrets and loopholes a heavy crossbow could be conveniently nested, and the weapon could then be aimed in safety at the besieging force. It was also a favourite weapon on board ships of war.
It was certainly superior to the longbow in some respects; for besides its much heavier missile and its accuracy and power as an instrument of offence and defence in fortified positions, it could be used from any position of concealment demanded by the exigencies of war, as, for instance, through the peepholes and slits of low basement rooms, or through the small loopholes that were pierced in the walls of the flanking towers of a fortification to enfilade
1 The larger shields, which were carried before the knights (by their pages) when on the march, and which were propped up in front of them as a protection from arrows in a battle or a siege, were known as pavises or mantlets.
The Crossbow > Chapter 1 > Military Crossbow > p.7

---
---
---
---
---
Make Your Own
2 Plan Combination