---
The Crossbow > Chapter 1 > Military Crossbow > p.4

---
---
The Crossbow
English soldiers, the longbow began to supersede the crossbow and the shortbow, during the reign of Edward I in the last few years of the thirteenth century, crossbow continued to be held in some favour in our armies. In the list of troops mustered by Edward II, in 1319, for the siege of Berwick, crossbowmen are enumerated as part of the forces. In Scotland and Ireland, the crossbowmen were almost unknown, and even the bow was sparingly used, though in Wales, as in England, the latter was the common arm of the people in the fourteenth and fifteenth centuries.
For about two centuries and a half (1200-1460) the crossbow was the favourite weapon on the Continent. It was almost equally popular with English commanders and soldiers till about 1290, and several estates in this country were by the service of delivering a crossbow when the king passed through them.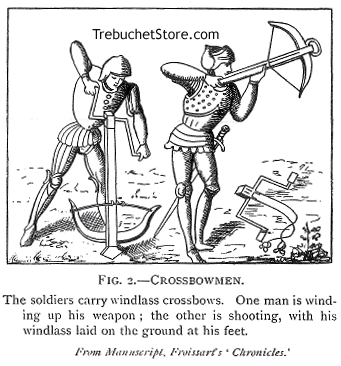 Fig 2. - Crossbowmen
The Soldiers carry windlass crossbows. One man is winding up his weapon ; the other is shooting, with his windlass laid on the ground at his feet.
The Genoese were always famed for their skill in the construction and management of crossbows, and were hired for service by sea, land and all the nations on the Continent. They are said to have used these weapons with success, even as early as 1099 at the siege of Jerusalem. In the naval engagement near Sluys, in Holland, where Edward III defeated the French in 1340, the latter had as many 20,000 Genoese crossbowmen on their ships, and the largest number of crossbowmen ever seen in order of battle on land, were probably the 15,000 Genoese who, according to Froissart1, formed the front rank of the French army at Crecy in 1346. It is asserted by numerous historians, all of whom derive their information on the subject who derive their information on the subject from a cursory statement by the second continuator of William of Nangis2, that the crossbowmen at Crecy were unable to shoot with effect, because the strings of their weapons were slack owing to the great storm of rain that set in just before the battle. Muratori3, the Italian antiquary, declares that the
1 Sir John Froissart - French chronicler, born about 1337, died about 1410.
2 William of Nangis - French historian, a Benedictine monk of the Abbey of St. Denis, flourished in the thirteenth century, wrote a history of the kings of France, died 1300.
3 Muratori -Italian priest and historian, born 1672, died 1750.
The Crossbow > Chapter 1 > Military Crossbow > p.4

---
---
---
---
---
Make Your Own
2 Plan Combination