---
The Crossbow > Chapter 5 > Range of the Crossbow Compared to the Longbow > p.20

---
---
The Crossbow

Chapter V

The Range of the Medieval Crossbow and How It Compared in Respect to the Longbow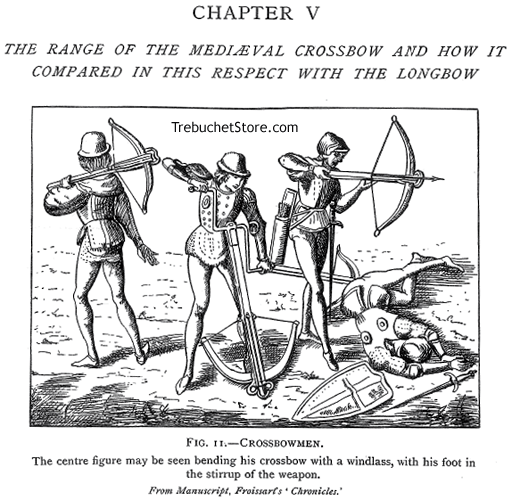 Fig 11. - Crossbowmen
The centre figure may be seen bending his crossbow with a windlass, with his foot in the stirrup of the weapon.
The ordinary Military Crossbow of the fifteenth century, with a thick steel bow, was able, if elevated to 45°, to propel its bolt from 370 to 380 yards.
The so-called point-blank range of a weapon of this description, was from 65 to 70 yards. The word point-blank must not, however, be read literally, as the head of a crossbow bolt was usually inclined a little upwards as it lay on the stock of the weapon, in order that it might have a slightly rising flight at all distances at which it was used, an arrangement in some measure applied to the sighting of our modern guns and rifles.
The Crossbow > Chapter 5 > Range of the Crossbow Compared to the Longbow > p.20

---
---
<! Plans Insert Starts Here>
---
---
<! Plans Insert Ends Here> <! Multi-Pack Insert Starts Here>

<!hr WIDTH="100%">

Save up to 50% with Multi-Plan Deals
---
2 Plans $19.95 FREE Shipping - Save Over 30%
U.S. Orders Only

<! Multi-Pack Insert Ends Here> <! Trebuchet Kit Insert Starts Here>
---

| | |
| --- | --- |
| Working Model Trebuchet Kit | |
---
Trebuchet Kit
TK1

$75.00
FREE Shipping
U.S. Orders Only

The trebuchet kit includes fully precut and drilled frame parts, pins and axles, sling cord and sewn pouch, projectiles and fully illustrated assembly and firing instructions.

Unlike the flimsy, snap together plywood trebuchet kits, our all hardwood trebuchet kit does not require additional cutting, trimming or shaping.

Requires only white carpenter's glue and a few bar clamps (not included) to assemble.
<!Trebuchet Kit Insert Ends Here> <! Assembled Model Starts Here>
---
| | |
| --- | --- |
| Fully Assembled Working Models | |
---

daVinci Trebuchet

T4

$299.00
FREE Shipping
U.S. Orders Only

Inspired by the great war machines and siege catapults of Leonardo da Vinci , this all Red Oak hardwood trebuchet features an open counterweight cabinet for range and trajectory adjustment.

Individually crafted from cabinet-grade red oak, the da Vinci Trebuchet stands 14 inches tall in the cocked position, 24 inches tall in the fired position and will hurl a projectile up to 60 feet. Includes six projectiles and fully illustrated instructions.
<! Assembled Model Ends Here>