---
The Crossbow > Chapter 5 > Range of the Crossbow Compared to the Longbow > p.20

---
---
The Crossbow

Chapter V

The Range of the Medieval Crossbow and How It Compared in Respect to the Longbow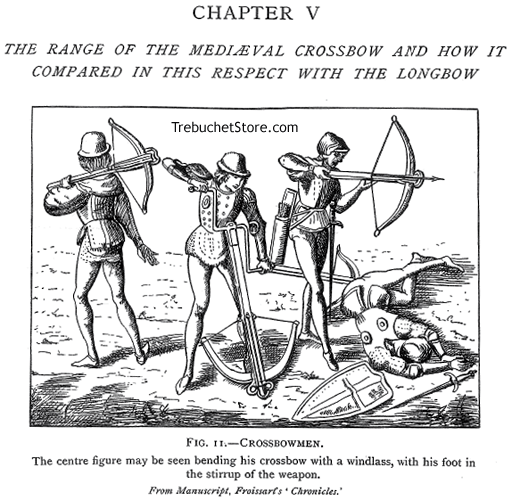 Fig 11. - Crossbowmen
The centre figure may be seen bending his crossbow with a windlass, with his foot in the stirrup of the weapon.
The ordinary Military Crossbow of the fifteenth century, with a thick steel bow, was able, if elevated to 45°, to propel its bolt from 370 to 380 yards.
The so-called point-blank range of a weapon of this description, was from 65 to 70 yards. The word point-blank must not, however, be read literally, as the head of a crossbow bolt was usually inclined a little upwards as it lay on the stock of the weapon, in order that it might have a slightly rising flight at all distances at which it was used, an arrangement in some measure applied to the sighting of our modern guns and rifles.
The Crossbow > Chapter 5 > Range of the Crossbow Compared to the Longbow > p.20

---
---
---
---
---
Make Your Own
2 Plan Combination