---
The Crossbow > Chapter 2 > Sporting Crossbow > p.11

---
---
Chapter II

The Sporting Crossbow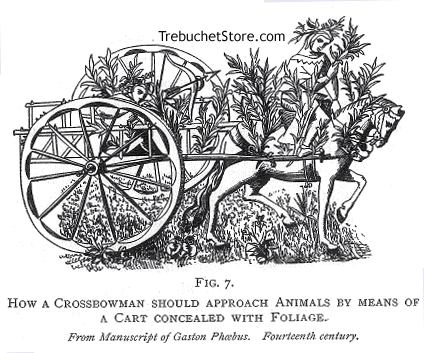 Fig. 7 - How a Crossbowman should approach animals by means of a cart concealed with foliage.
Though the Sporting Crossbow, as was the case with the crossbow employed in warfare, never found as much favour in England as it did on the Continent, it was in limited use among the nobles and gentry of the kingdom for killing deer, the extreme accuracy of the weapon at a short range, and the heavy bolt it threw, well adapting it for the chase. The crossbow, moreover, could be used by the hunter as he crouched behind trees or rocks, or amid the dense cover that formerly compassed the haunts of deer, in places where the string of a longbow could not be fully drawn for want of space, and when the act of doing so, were it possible, would probably alarm and drive away the animal for which the hunter was lying in ambush. The hunter could carry his crossbow ready bent, and then discharge it from any position, even when lying on the ground, while the archer with a longbow could not shoot with effect from a stooping or recumbent attitude.1
The crossbow was also noiseless as well as powerful and accurate, and for this reason it survived - as a common weapon of chase - the first serious introduction of the handgun for over a century and a half - 1470-1630.
1 I find that the thick steel bow of the ancient military, or sporting crossbow, like the spring of a gun-lock, does not' tire ' - i.e., lose any of its power - even though it be kept bent for two or three hours at a time.
A heavy steel bow was slightly bent in proportion to its length, and differed in this respect from the much lighter bow of a modern sporting crossbow. The latter is always liable to take a slight 'set,' or permanent bend, if kept in a strained condition for more than about ten minutes.
The Crossbow > Chapter 2 > Sporting Crossbow > p.11

---
---
---
---
---
Make Your Own
2 Plan Combination